Update 18.6.21: Sadly little progress throughout March-June (waiting for Si5351's). Anyone wishing to build a V2 kit who already has a 10-pin Si5351A-B-GT is welcome to do so - just contact me on the usual email (timbly123 at ntlworld dot com). Software is done.
Update 14.5.21: Still no sign of the Si5351 parts arriving. For now I am just going to carry on boxing up my Mk 2 as a portable receiver. Current plans are to squeeze it into a Hammond RP1175C, a plastic 185x85x55mm case with a transparent lid. If this is successful it will avoid having to make a clear window for the LCD display. I also propose mounting the Discovery board closer to the panel so that the LCD display does not have to be lifted and refitted. This will require very low-profile tactile pushbuttons if they are to fit between the Discovery and the front panel. Yes, I am now experiencing delays getting hold of push buttons!!!
Update 9.4.21: I finally get round to attaching the HA8LFK bandpass filter board. 4 x M2 pillars are used (5mm pillar with washers totalling 7mm) to secure the filter board and 8 wires to the 'presel' connector. Select filter type E in the menu and away it goes :o) The overall receiver module is very compact, although the edge-mount SMA connectors are going to have to be removed to fit it into a small 'portable receiver' sized box. Work on the CAT control interface has now resumed.
Update 5.4.21: First V2 kit has shipped! The first batch is ready to go but I only have 2 Si5351s; I am still waiting for the order I placed in early Feb to arrive.
Older updates
---
Mk 2 Home-Brew HF SDR Receiver by Tim Howe, G0ETP
A complete, multi-mode HF + 6m SDR receiver as an easy, plug-on 'shield' for the STM32F429I Discovery Board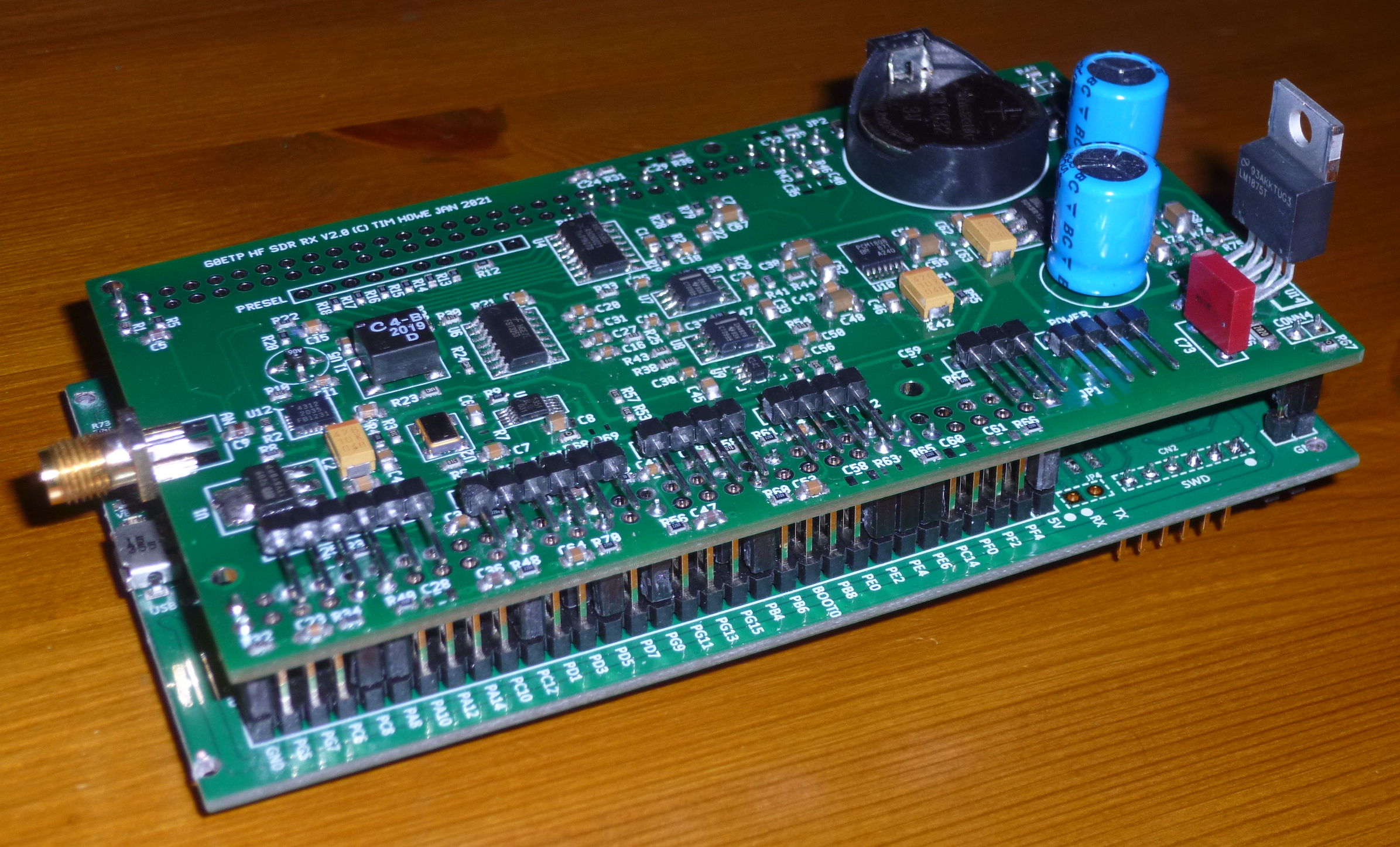 Key Features compared to the V1.2 Receiver
Plug-on 'shield' for the STM32F429I Discovery board
Single board design with everything required to make a receiver, including the memory backup battery and audio amplifier
The software is branched from the V1.2 design and therefore the look & feel, plus all all functions are pretty much identical
Provision has been made for the direct connection of an HA8LFK bandpass filter board
Pin mapping of the ARM device has been completely redone. There is now access to 2 serial ports (UARTS)
Full CAT control via one of the UART interfaces will be implemented shortly
As a result of the new pin mapping, new features (including CAT) will eventually be available for builds using the V1.2 PCB but will require some rewiring
This project still requires soldering of 0603-size SMD components and a couple of fine-pitched ICs. It now includes a QFN-20 RF IC which is not too difficult with the correct soldering technique.
Notes/advice on QFN soldering
.
Kits will be available soon - watch this space.
---
Screen-Dumps Illustrating the User Interface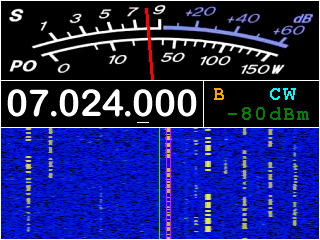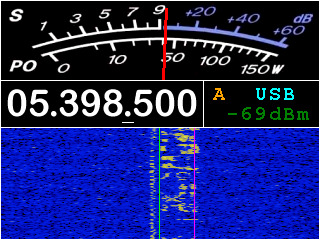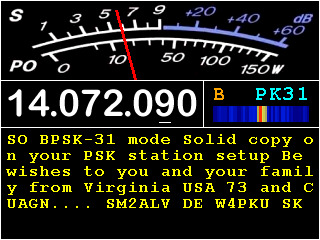 Additional Pictures of the Assembly
V2 Receiver PCB - Component Side View: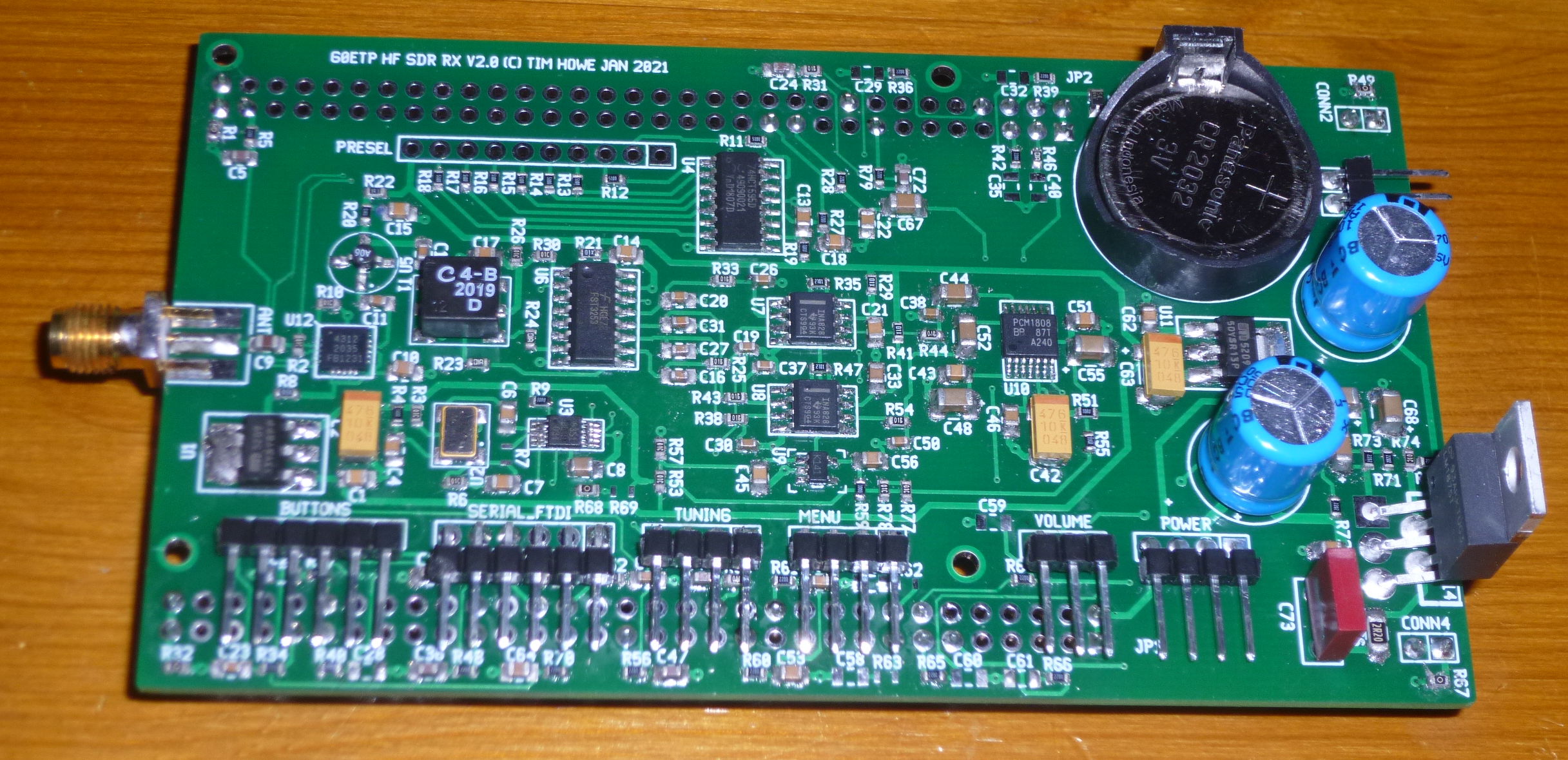 V2 Receiver PCB - Underside View showing connectors that mate with the STM32 board: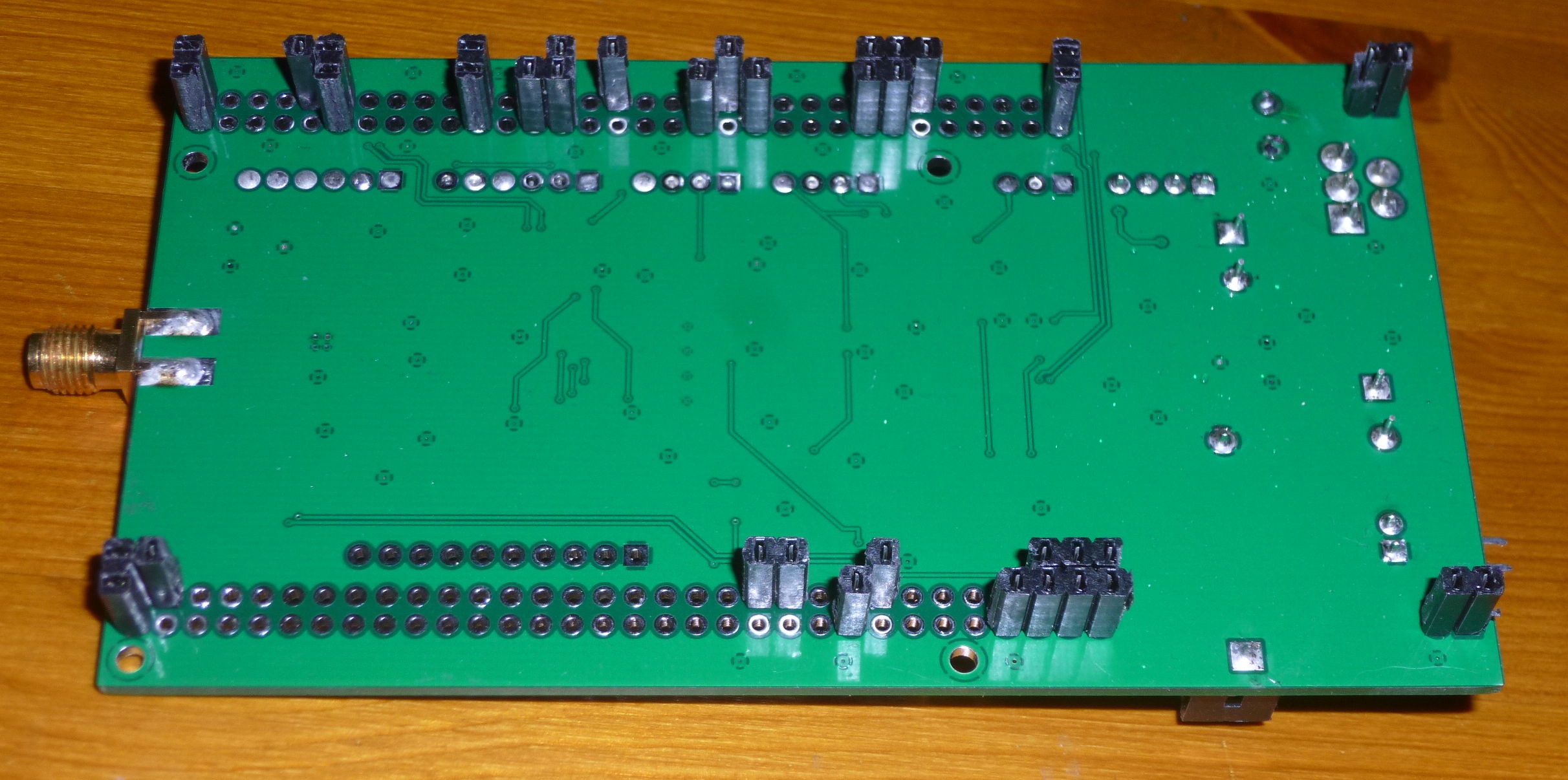 V2 Receiver board attached to the STM32 Discovery: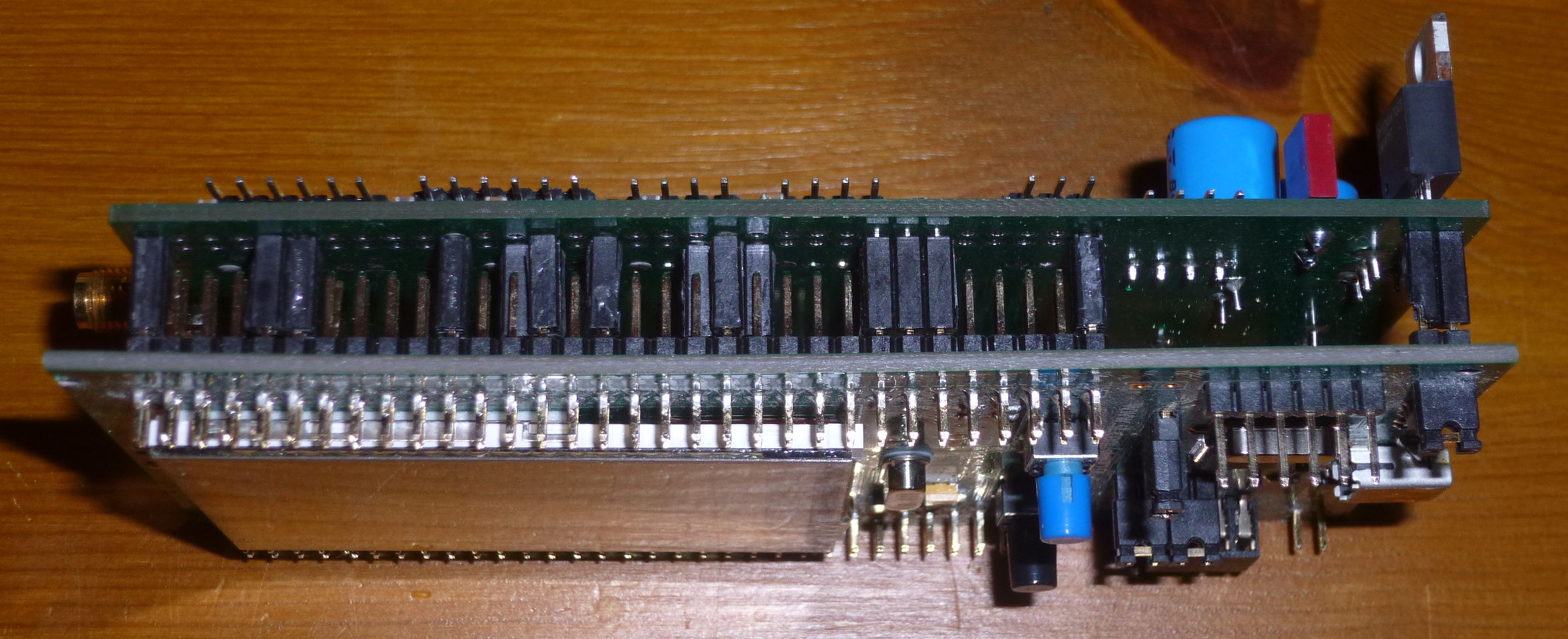 Early picture of V2 Receiver in operation: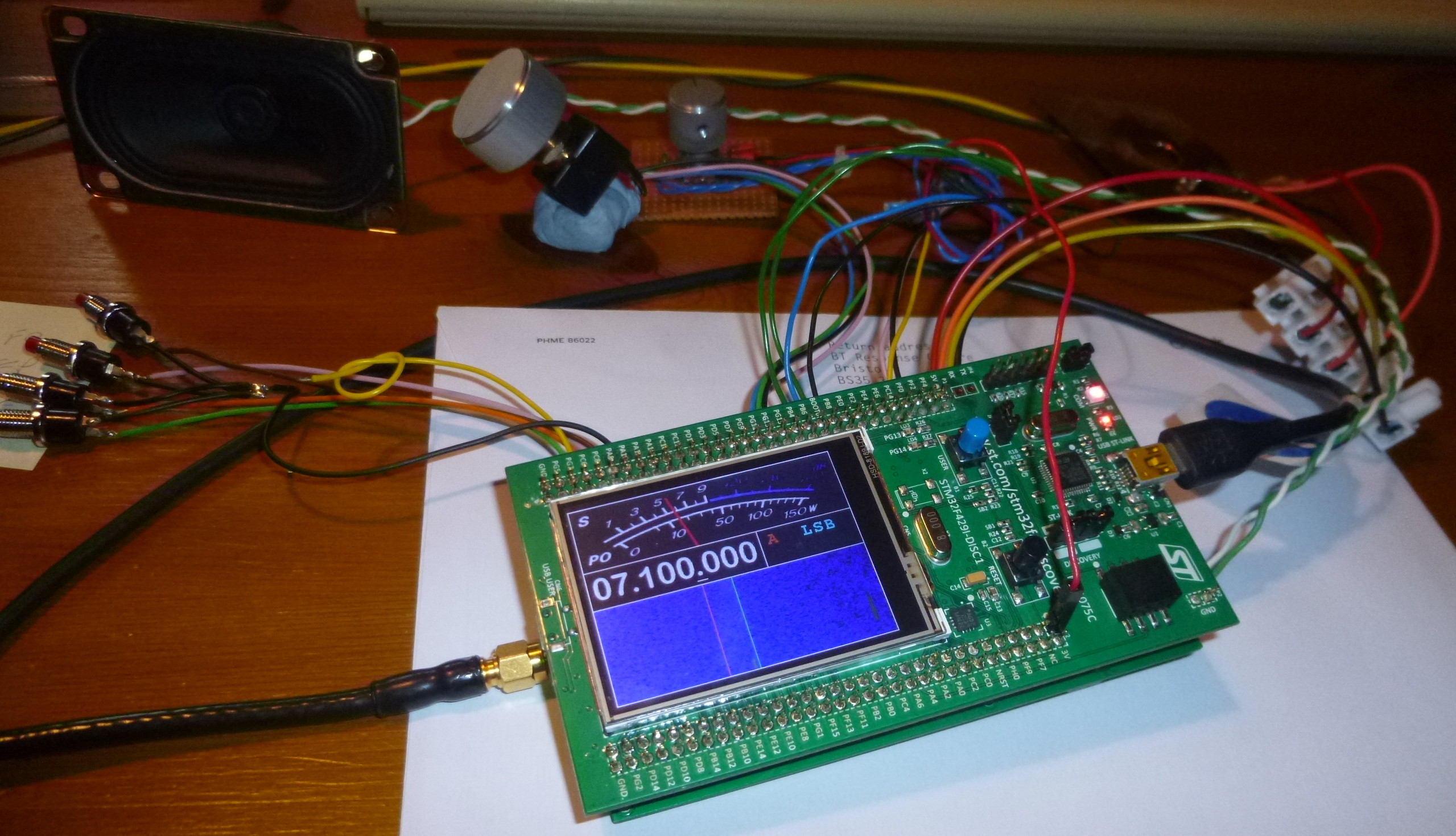 The PCB can be seen here
---
Now with the 7-band preselector filter fitted: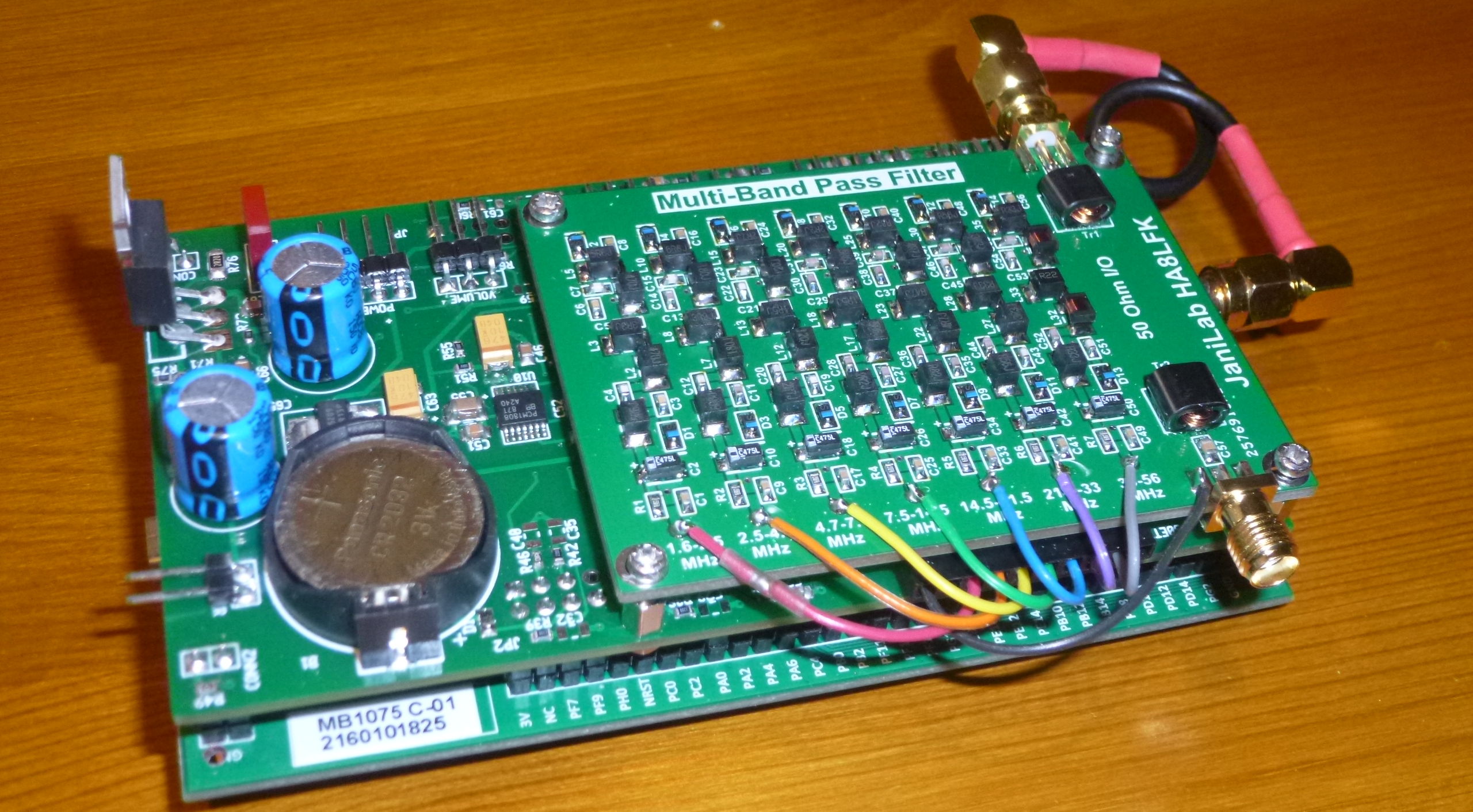 ---
Video clips
Video 1: Sample of 80m SSB, 26.2.2021
Video 2: Tuning around 20m SSB + using the notch filters, 7.3.2021
---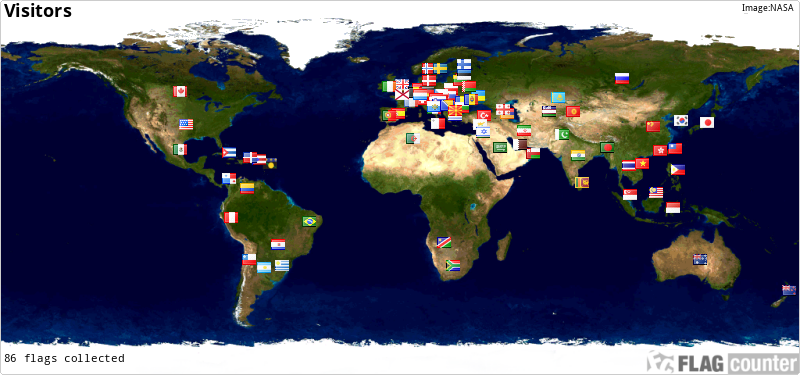 ---
Last updated: 18.6.2021